HYDERABAD: That Indian Chief National
Badminton
coach
Pullela Gopichand
has, and is still giving back a lot to the sport of badminton in India is no secret. The former All-England champion turned badminton guru has a holistic, long-term target in mind to improve Indian badminton and take it to new heights to keep setting the bar high. And his Foundation's latest venture, in collaboration with a leading private bank is another step towards that.Kotak Mahindra Bank Ltd. (Kotak) on Monday announced its CSR Programme in sports, in collaboration with the Pullela
Gopichand
Badminton Foundation. This is a new step forward for Indian badminton overall. As part of the new alliance, Kotak, Pullela Gopichand and the Pullela Gopichand Academy, which is part of the Foundation, will work together to develop a world-class badminton training facility. This facility will have advanced infrastructure and amenities as well as international-standard coaches.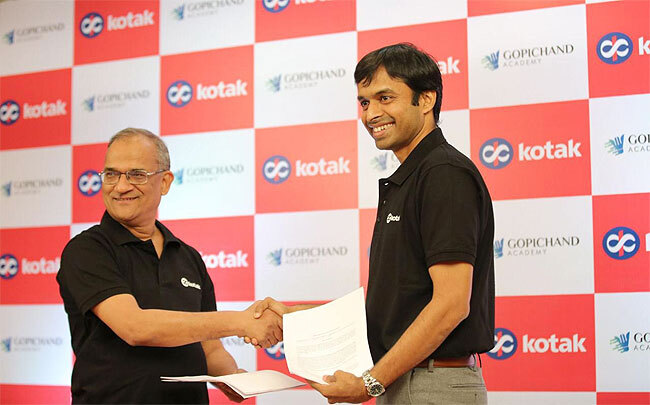 Talking about the new venture, Dipak Gupta, Joint Managing Director, Kotak Mahindra Bank said, "Encouraged by Pullela Gopichand's commitment and his long-term singular focus on badminton in producing world-class badminton players, we are announcing Kotak's CSR Programme in Sports, which we will jointly implement with Pullela Gopichand Badminton Foundation. Kotak and Gopichand are committed to developing a state-of-the-art, high-performance training facility and coaching & producing world-class badminton coaches and players, in the process helping India win more medals and international trophies."
National coach Gopichand said, "The objective of Pullela Gopichand Badminton Foundation is to train, nurture and guide young talent with the purpose of developing international badminton champions. For India to consistently produce world-class athletes and be counted among the great sporting nations, access to quality infrastructure, training and coaching facilities is a must. Under Kotak's CSR Programme in Sports, we will work together towards our shared vision of developing outstanding athletes and coaches."
As part of the programme, a high-performance training centre will be constructed. This centre will have six air-conditioned badminton courts in the existing premises and a Sports Science Centre. The aim is to have top-quality resident nutritionists, physiotherapists and strength and conditioning experts on board at the Sports Science Centre, for the all-round development of players. The target also will be to ensure that the level of badminton coaching at the academy is at par with global standards.
The association has other facets as well. Kotak will support the Coach Certification and Fellowship programmes for coaches and players. Under the coach certification programme, the Pullela
Gopichand badminton academy will train and award certification to sports-persons of yesteryear. The Fellowship programme for coaches and players will be used to help talented, but, economically backward coaches and players, both within and outside the academy.
Please follow and like us: